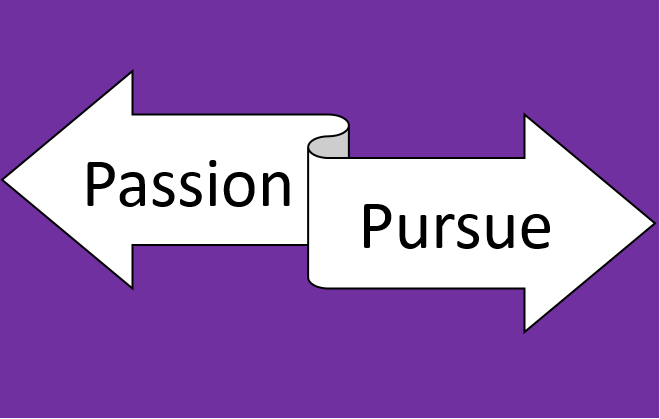 I said, "A Linked-In contact in the Middle East described her ongoing education saying, "rather than pursuit of passion, I like the Passion of Pursue :)."
Gail, our writer, replied, "The tenses and words are all twisted around but there is a beauty in the comment."
Rick, ever the practical direct marketing guy surprised us all saying, "There is something magical in what she is observing."
"Magic?" questioned Rob.
"Magic." Said Rick. "All of us spend our days working on ways to build our client's businesses. They expect us to be passionate about it. But we can never be quite as passionate as they are. And as much as they think that for us it is all about the money. It isn't.
For us the passion is in what we are doing. It is about psychic rather than physical rewards."
Surprisingly, Kate, the tough sales consultant was nodding in agreement.
"How often," she said, "have each of us admitted that we would do what we do even if we didn't get paid for it. Ours is the passion of pursue… getting it done, making something happen, wanting to make the world a better place."
"That reminds me of Steve," I said. He was flat broke when he came across an article in the paper. By the time he realized what was happening he had started what will become a charity. It has a crazy name: Carbon Sucking Trees. Take a look at the website. He's done all this work with no hope of a personal payback. It's the Passion of Pursue."
"Carbon Sucking Trees," mused Rob, our branding guru. "That is one of the weirdest brand names I've ever heard. I'm not going to ask, I'll just go to the web site and figure it out. But I have to tell you this playful approach to words is one of the techniques commonly used to position and brand products and services. Here are some examples:
Famous:           The Uncola for Seven Up
Not so famous: The Untangler for Shell Tain a money consultant who is one of Fletch's former clients
Sorta Famous: Digimarc (the name Fletch came up with for a "digital watermarking company"
Not so famous: KDI Americas (Fletch suggested adding the 's' to broaden the scope of a company already known in Asia and Africa which was moving into this hemisphere. It worked.
I responded, "Bubba, you are kind to use examples from my portfolio. I do appreciate it. But I'd like to get back to what Rick and Kathy were saying. I agree that the true professionals in business development do it for more than the money. They are passionate about it, but it is the results that gets them involved."
Chris, the digital director said, "Then how come the very best cost so much more than others?"
"They do and they don't," I said. If they are good at what they do, they are always working. They have less time and because of that they raise their rates. And the world knows they are good at what they do and more people are eager to work with them. That cycle repeats and repeats. But they are still intrigued and if you can lay a problem in front of them that gets their interest the price to you might not be as high.
The Takeaway
Don't be put off by your fear of the cost of an expert. That expert may get you answers much, much faster. More importantly, if your problem is intriguing they will give you value in multiples of what you pay. And, should you catch them at the right time, their advice may cost nothing yet be the best you will ever receive because theirs is the passion of pursue."
The lunch bunch is a group of marketing and sales professionals that meet for lunch each Friday. They discuss what's new, what's old, what's good, bad and ugly but mostly what works. Jerry Fletcher is the ringleader and the one that writes up their comments. Sign up to get updates on all their discussions at www.JerryFletcher.com/profit
---
Jerry Fletcher has been researching and implementing marketing that builds businesses, careers and lives of joy for 20 years as President of Z-axis Marketing, Inc. Learn more at www.JerryFletcher.com
Schedule a personal appearance. Jerry speaks internationally on Networking, Marketing and Contact Relationship Magic. www.NetworkingNinja.com