Can your home page first panel pass the three second test?
Three seconds is all you have for your brand to register with a visitor. That visitor is like a stranger you're meeting for the first time as you'll see in this video https://vimeo.com/351932771
The first panel on your home page must get across:
Who this is for
What problem it solves
How to take action
Dissecting the panel I have in development.
The navigation bar is often not streamlined to make that first glimpse as powerful as it might be. You need to have your logo up there in the upper left. Make sure it is clickable. That way you don't have to put "Home" in the navigation.
Keep the pages listed to an absolute minimum. You can use the footer for all the wonderfulness that proves you know your stuff.
Put a call to action button at the far right. If you are lucky to catch someone at the point they are willing to make an interactive commitment you want to make it as easy as possible for them.
You'll find I've followed my own advice. Here is the first option:
Background Image is usually the first thing people see. We are, after all, visually oriented. The image should give us the idea of what the shift is like on the other side of your advice.
It is the kiss at the end of every romance movie ever. It is the celebration of a team. It is the fond hope of the target audience.
Here is the first alternate. Notice how the copy and the photo play to success.
Headline is where things get tricky. We need to get the unique difference across in just a few words. You need to consider these things:
Awareness level of most visitors. Are they aware of the problem you solve? If not, that is part of your job here. Are they aware of solutions? If so, you may want to offer a comparison to a known solution. But if they are well along in the customer journey and already aware of your brand you need to find a way to engage more personally with them
The job to be done. What, in their terms is the job they need to get done that you or your product/service might do for them. How you refer to what you do needs to be in terms of, "Here's what you can do with our product."
What it's worth to the prospect plays a key part in how you will be perceived. If you have a value proposition for your business this will be an integral part.
Here's an option that might play better with women. Note how the headline has been shortened.
Subhead is optional but I highly recommend it. It gives you the chance to add to the value of your headline, expand and define the job the product does and personalize your pitch for the target audience. The more these words come out of the situations your prospects find themselves in the stronger they will be. The more you can let them see you understand the emotional context they find themselves in the more they will be drawn to you.
Notice how the subhead has changed slightly to include the phrase "lifelong success" which is gender and age neutral as illustrated by this example:
Call to action (CTA) After all that skull sweat to find just the right words you can't let it go to waste. You can't expect the visitor to know what to do if you don't tell him/her. You don't need to put your primary CTA on the first panel. But you do need to put at least one simple button there that is the overall action you want folks to take.
You need to give the visitor a simple mechanism to connect with you. In the case of the Master site we have button in a color contrasting from the background image with the words Arrange a Chat. That drops down to the primary home page CTA that is a form that gathers additional data about the prospect. Why? I've written before about "Skin in the game." If a prospect will answer a few questions they are more likely to be someone I'd like to work with.
Here's a tip: include a second CTA but make it not as prominent. Offer the visitor a less direct close. Give them an option.
This is glimpse into the thinking and development process I use with every website. This is just the first panel on my new site in development. Which design will I launch? Right now, I'd probably go with the old guy version. Which do you prefer?
And so it goes
_____________________________________________________________________________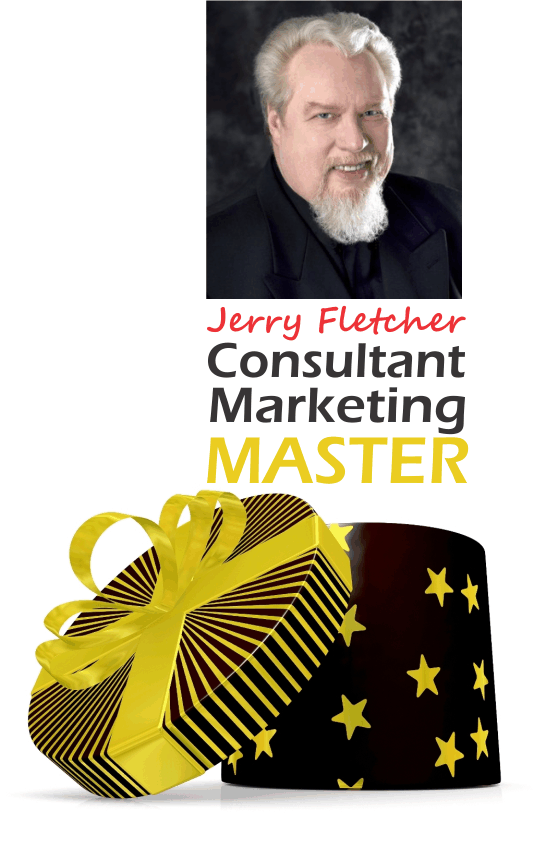 Jerry Fletcher is a sought-after International Speaker, a beBee ambassador, founder and Grand Poobah of www.BrandBrainTrust.com
His consulting practice, founded in 1990, is known for on and off-line Trust-based Consultant Marketing and Brand development advice that builds businesses, careers and lives of joy.
Consulting: www.JerryFletcher.com
Speaking: www.NetworkingNinja.com