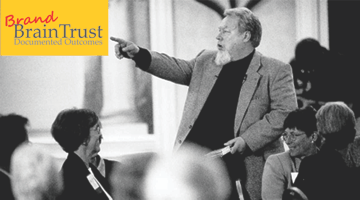 Yes.  It is those three and more. You'll find brand sorted into these groups on www.BrandBrainTrust.com:
Personal
Coach
Professional
Consultant
Startup
Product
Business
Those seem to cover all the permutations that displayed significant differences in my analysis of brand development and outcomes as I organized the site.
Personal Brand
Each of us has a personal brand whether we strive to do so or not. Each of us is perceived by those who know us well as having specific traits views and quirks. Folks that don't know us as well have opinions about us based on how they come into contact with us and how important the interaction is to them.
The outcome of your search for love, a job, a new career or all three is predicated on your Personal Brand. You have one and it has a numeric value. It is called a Klout Score. When you share on social media you build your social influence. The more influential you are, the higher your Klout Score. Then, too if you are active on Twitter and Facebook you'll have a Kred score. I'm more of a Linked In kind of guy who tweets only when I take a bus (and I never take buses) so my scores are not that great.
The point is, you can build a following and generate measurable results on-line. Google's infinite memory adds to your perceived credibility, believability and, over time, whether you are trusted or not. But on-line is only part of how you need to change and adapt to satisfy your desire to get a better paycheck, ditch that boring routine, or just change climates.  Your Personal Brand will make or break you. Here are some books that might help:
Strengths Finder from Gallup (includes access code to assessment and website) Worth the price to assure that you know the talents that make you unique.
Stand Out by Dorie Clark subtitled: How to Find Your Breakthrough Idea and Build a Following Around It. You may have heard about "thought leaders." This is a road map to becoming one.
Reinventing You from Dorie Clark. This is a "step by step guide to defining your brand and imagining your future." Solid advice.
Professional Brand
Lawyers, CPAs, Doctors, Dentists Naturopaths, Financial Planners, Insurance Agents, Realtors, Coaches, Consultants, Beauticians, Contractors and a slew of others make up this Brand category.
Professionals work with individuals or companies or some combination of both. Coaches tend to provide one-on-one assistance but in most cases are not required to be certified or licensed. Consultants on the other hand are often comprised of a full team that works with organizations. Professionals regardless of how they connect with clients tend to be certified or licensed. Lawyers have to pass the bar. Accountants and Insurance agents need to maintain a state certification. Financial Planners must adhere to state and federal regulations. Contractors, Beauticians and Realtors are licensed.
Networking is not the only way to develop a Professional Brand.  It can be a major part of your marketing plan. It can get you in front of potential clients but so can all these approaches:
Speaking (including on-line video)
Writing (including on-line content marketing)
Teaching
Sales Promotion
Direct Marketing
Trade Shows
Edutorial
Sales Materials
Public Relations
Advertising
Social Media
Professionals have more ways to influence their Brand Development than ever before.  Legal and/or cultural restrictions have been skewed nearly beyond recognition by the advent of the internet. There are law firms currently spending millions on internet advertising. There are specialists in content marketing for financial planners. How could you better reach your ideal clients?
Product Brand
Familiar. Intriguing. It's your favorite beer, the batteries that keep on working, the heels you lust after and the perfect tech goodie. It's the thing you've never touched yet feel you know intimately. Or you've been a customer for years and wouldn't think of trying something else.
Product Brand comes in three flavors. I've been lucky. I've been there in startups when a Brand was born, suffered through the naming debates, bellied up when it was christened and helped get it on its way. And I've worked with the companies that a Product Brand can become. The three flavors I decided to keep in www.BrandBrainTrust.com are Startup, Product and Company.
If you're an entrepreneur, all three of these classifications are ones you might want to follow. If you find yourself trying to figure out whether to put your brand budget into the company or a product or some combination we will have outcomes you can study and compare. But, if you are like most you will want to know the behind the scenes stories of products that have become more than the widget in the box.
We'll show you how in the box thinking that makes the box bigger is a better way to go than thinking outside the box. Stay tuned. It will be worth it.
____________________________________________________________________
Jerry Fletcher is the founder of www.BrandBrainTrust.com  His consulting practice, now in its 26th year, is known for Brand Development, Positioning and business development on and off-line.
Consulting: www.JerryFletcher.com
Speaking: www.NetworkingNinja.com
Get all the Brand Briefs. Sign up at http://www.brandbraintrust.com/home.html