It is not something to do lightly.
You just don't wake up one day and decide to change the name of key communications tools that have become familiar to those you have built relationships over time.
The day inevitably comes.
You think about it. Sleep on it. Have long dialogues within between the emotional aspect and the quiet logical voice. That conversation is one each of us must go through even though we know how it is going to come out.
Visceral wins.
Gut feeling beats the hell out of logic. Emotion is a body blow to logic. Mood stymies reason. And so it goes.
The decision is made.
Going Forward, the Newslog is going to be called Credibility to Cash.
Why? Because the first time I saw the words written on a torn-out scrap of notebook paper I knew they were right. The right words don't need graphic embellishment. They don't need to be presented in new world announcement typography. When they are right, they are RIGHT.
I was in Miami at a gathering of successful speakers, coaches and entrepreneurs. All of us were intent on helping each other find ways to shake off our doldrums and take our businesses up a notch. It's not like there were any slouches in the group. We would not have been invited if that were the case.
I had scheduled a few minutes with Jeff. His unique ability is in naming things. We talked briefly about what I was doing in my Consulting practice working with elite consultants from Singapore to Madrid to make them more memorable and more profitable. He listened, really listened and then said, "So you guide them to find a way to build credibility and that leads to generating more cash, right?"
I agreed and then he tore a piece of paper from a small notebook and wrote these words in blue ink at the bottom of the page:
Credibility to Cash Conversion Cycle
Credibility to Cash Conversation
I circled Credibility to Cash in red and put it in the 3-ring binder I was carrying keeping notes at that multi-day event. That was late in May of 2021.Now I find myself at the end of the year and just getting around to implementing actions considered when the year was stretching spring-time muscles.
A name is sometimes just a beginning
That's not to say nothing has been done. I put together a 90-day plan but it was not the one the seminar leader was driving us toward. The objective was to be a complete overhaul of the business shifting to a more powerful approach generating significant new income levels.
My 90 day plan had a physical health component as well as long term scheduling component I had to deal with. The physical component was knee replacement surgery. I came home with a newly strengthened desire to get it done and by fall proceeded to go through all the hoops to get it paid for by insurance. Unfortunately, Covid has filled the hospitals and my surgery ahs now been delayed three times.
Long term scheduling is a delight and a devilment. It is great to know you're scheduled to speak somewhere and all the details have been taken care of, the flight, transfers, hotels. All that stuff. But Even if you are speaking virtually you need to do all the prep and continue your work with current clients.
I knew what I was going to be doing for 5 months after returning from Miami. So I squeezed what I could into my schedule. I checked off these actions in getting here to the holidays:
Logo design (Cristy did a magnificent job)
Logo design for transition (You'll be seeing it next week)
Research on building, running and making a peer advisory group profitable for all who are involved
Action plan for shifting Blogs and Newslogs from A Different Slant to Credibility to Cash
Development of Brandr, a product that makes it simple and easy for consultants to add their brand to their Linked In Profile in an evening incorporating their WHY.os
We are well down the road from Credibility to Cash.
And so it goes.
Jerry Fletcher is a sought-after International Speaker, a beBee ambassador, founder and CEO of Z-axis Marketing, Inc. See Jerry's speaker demo reel.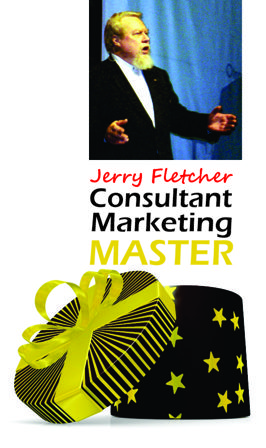 His consulting practice, founded in 1990, is known for on and off-line Trust-based Consultant Marketing advice that builds businesses, brands and lives of joy.
Credibility to Cash TM is his latest way to share experiences so you can take your business up a notch…or two Sign up for the unique audio/video/article Newslog here.
Consulting: https://www.JerryFletcher.com
Speaking: https://www.NetworkingNinja.com