The popular press was crowing about how populism was sweeping the earth because social media had given everyone a voice.
Then a pandemic got in the way.
Suddenly marketing gals and guys are debating whether to listen or lead and how the pandemic reaction will affect that going forward.
Consultant Marketing is different…or is it?
We know from 17 years of research that Consultant Marketing is not like traditional product marketing. It is not like the standard marketing required for a service either. Has the mainstream idea of the customer dictating the marketing of the product impacted on Consulting?
Yes and no.
The length of time a consultancy has been operating makes a difference as does the size of client.
Start-ups are too busy trying to find their next engagement to do a lot of listening to populist viewpoints. They are out there pitching on and off-line. They've taken up virtual networking and speaking on Zoom to get in front of prospects. To get speaking bookings they have to present on an area of expertise.
Growing firms have established an expertise. They are expected to bring that proficiency to bear on client's problems that fit nicely into their knowledge base. They tend to be seen as "thought leaders" and are expected to lead the discussion. Those that have the greatest revenues do so, on stages, in boardrooms and in interviews. Their clients generally are middle market B2B and not subject to the opinions of the multitudes except if they are targeted by an anti-elitist group.


Established Firms Still may include individual front-runners. that got where they are on the corporate ladder by championing a singular opinion. But close observation reveals that they are now prone to carefully weighing their stance against the opinions of client customers.  Those clients tend to be larger and B2C oriented. Then, too, the staff in such organizations is always larger and tend to be filled up with youngsters that are charged with understanding how the client company operates.
Ask and Choose
There will be a "New Normal." The world will change. People will have different expectations.
The mark of a good consultant will continue to be the ability to listen. The need to assess the situation in conference with a CEO will not go away. The requirement to understand a prospect's operations will continue. The impact of customers on the client's business will still have to be assessed.
Consultant Marketing will, I believe, begin heavier use of two tools.
Ask As simple as it sounds this way of going about things will, I believe, see expanded use in the future. Many are reticent to use this means of getting to what matters. It can be as simple as saying, "oh" repeatedly to get the speaker to examine their contention. Or, you might employ a quiz to determine which of your areas of expertise are what is expected or dated or needed.
You will need to query in a way you can get useable, verifiable information. Make your questions ones that can guide you in selecting products, services and approaches. Whether your clients work in B2B or B2C you can be more effective the more you know.
Choose First you ask the right questions. Next you focus on verifying the salient qualities of the choice. Does it sell? Will they buy again? Can we layer other sales on top of it? Are ancillary products or services wanted? Is it trending up or down? How does it compare to known successes? Is there competition or is it a unicorn? (You want a competitor).
Involving folks in both the client organization and their customer base will often provide you with insights you would not get any other way. It will save you and your client time as well as give you an edge on success.
Make it personal
Testing your assumptions will give you a competitive edge. Knowing which of the services you offer are most important to your ideal clients will allow you to be more certain in your approach. Determining what customers for your clients really want will make your advice produce revenue faster. Shifting your communications to the area that interests prospects and using their words will make you more successful. When you take the stage and provide he advice they are looking for, more of them will hang on your words, in the meeting, in the hallway, in their boardrooms and in their offices.
Be a real thought leader
Here are three thoughts generated by the most recent Consultant marketing Survey:
"Speaking is the new magic weapon for building a practice…
If the right stages can be booked and the follow up is in place."
                                                                                          Jerry Fletcher
"Every consultant has a branding problem…You gotta move
from Nobody to Somebody and do it in just 3 seconds!"
                                                                                                      Jerry Fletcher
"Controversial gets you heard...
Proof gets you hired."
Jerry Fletcher
And so it goes.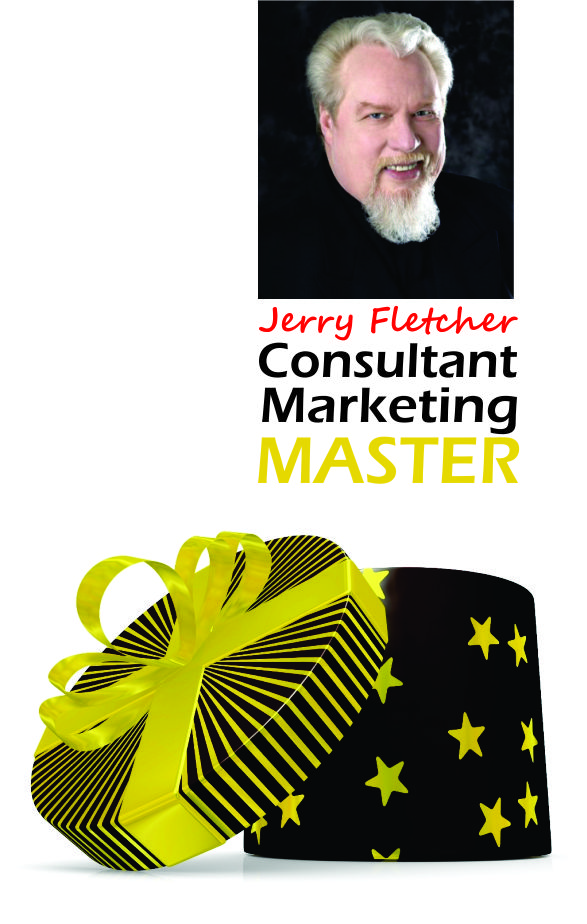 Jerry Fletcher is a sought-after International Speaker, a beBee ambassador, founder and CEO of Z-axis Marketing, Inc.
His consulting practice, founded in 1990, is known for on and off-line Trust-based Consultant Marketing advice that builds businesses, brands and lives of joy.
Consulting: www.JerryFletcher.com
Speaking: www.NetworkingNinja.com