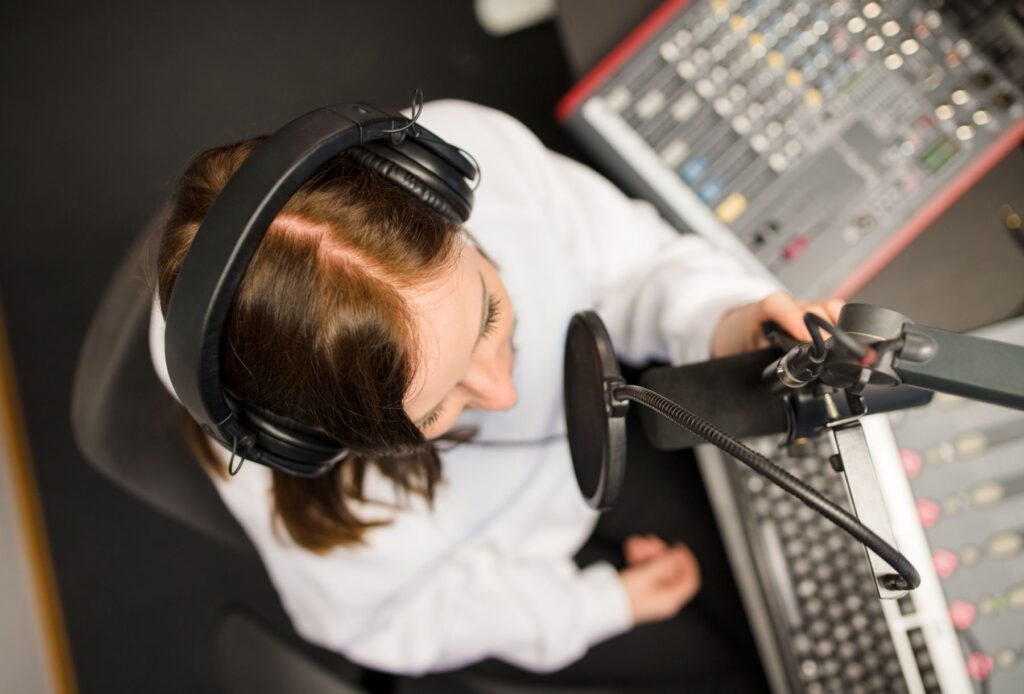 I was interviewed on a Podcast last night.
I had approached the interviewer because of a post she had put in a group I'd been asked to join on Facebook. Usually I don't engage on that platform but there she was, right up front when I clicked a link to the group.
We had chatted briefly on the phone, set a date for the interview and she said she would send me all the particulars.
When she called a little after dinner she was concerned that I had not responded to her e-mail.
I immediately searched my e-mail files and found zip, nada, nothing. She did the same and discovered that it was in her draft folder and had not been sent!
She asked if I could talk now to record her blog.
I said, "Certainly."
She clarified a few points and then proceeded with the introduction.
Our connection is an event promoter who is launching a nationwide tour in March. I'll be one of two keynoters in San Diego in November. He wanted me to keynote in multiple cities in the west but I no longer get a kick out of being in an all-day event, flying at night to the next city and doing it all again the next day. So I passed on Phoenix and Las Vegas.
Then I was asked to introduce myself.
Here's what I said:
"My name is Jerry Fletcher, I'm a master of consultant marketing. You know how everybody tells you that you have to have to be memorable but nobody tells you how to do it? Well what I do is help consultants, coaches and entrepreneurs craft a unique trust-based marketing strategy to build a business, a brand and a life of joy."
Memorable? She asked
"You have three seconds to use words face-to-face or on-line to get someone's attention. Three seconds to say something or register or a strong headline to get through the armor we all have on our minds to open the way to further conversation. In the next ten seconds you must give them a reason to want to talk to you.
A commercial is not going to get it. People would rather have a conversation than listen to a commercial."
Nobody is legendary right out of the box.
What you say in that first three seconds must give them a way to recall you. It should include your name and a memorable hook. That is the beginning of what I call 30-Second Marketing TM. Over time you will move through a series of steps that bring you closer and closer to that client/customer. Here's the progression:
Memorable
Trusted
Branded
Employed
Unforgettable
And for a few elites: Legendary
For her, it is the beginning.
Her questions revealed that she is moving from a full-time job in healthcare to coaching. She is fired up. She has taken the training and is now certified but like all indpendent professionals, consultants, coaches and solopreneurs she is having difficulties figuring out how to market her services.
I explained that the marketing that works in the beginning is not the same as she will use as her business grows and will change yet again when she is established. Of course, I have the benefit of the consultant marketing research studies I've done over the last 16 years.
Companies are built one contact at a time.
One gem of a contact plus another and yet another until you have a string of them like a lustrous string of pearls. In time, with trust some become clients, some become referral sources and some become both. Networking will always be a part of the successful firm's marketing strategy. It will diminish in relative importance over time but will always be there. Along with direct sales activities, no matter what the business entails it is what the new entrepreneur must count on in order to pay the bills.
Speaking puts more targets in your sights.
I didn't discover this fact of life. L learned about it by interviewing a consultant that had authored a book. Because of her I signed up for a newly formed group that I helped become the local chapter of the National Speakers Association. I've been a professional member of the National and the Local since 1993
If you have a process or viewpoint that can help solve a problem for individuals you can take that same information and build it into a speech crafted with signature stories and incidents along with content that will change the lives of those in the audience. In doing so you will generate memorability, trust and brand. You will bring a part of that audience to the point that they want to work with you. You will be able to close the deal to work with them. And, assuming you deliver as promised, you will make yourself unforgettable.
Walk away from the podium.
Get your first appearances in places like your local Rotary. You won't get paid by them or other small local groups that would like to hear your message. That is okay. You will need the practice and to learn what people really want to hear.
Slowly but surely you will develop the skill to speak without notes and to roam a stage finding positions that will help you make your point. Later when you are pursuing an appearance at a larger organization you will be asked, "What is your fee?" It will happen and from that day on you will be a professional speaker. Just remember, "It's not about you. It's about them." Make sure your audiences always leave with information they can put to work immediately and that you have a way to continue the relationship.
Between those who come up to speak with you when you finish and those that provide you with their contact information your business and your referrals will continue to grow.
And so it goes.
Jerry Fletcher is a sought-after International Speaker, a beBee ambassador, founder and CEO of Z-axis Marketing, Inc.
His consulting practice, founded in 1990, is known for on and off-line Trust-based Consultant Marketing strategies that build businesses, brands and lives of joy.
Consulting: www.JerryFletcher.com
Speaking: www.NetworkingNinja.com