I offered a free 3-Day Challenge.
Two thirds of the room signed up.
I figured it was a good way to build trust while working out some of the kinks in the first of a series of new experiential products with a small group.
What I learned.
I knew that most informational products sold okay but the purchasers didn't implement the actions recommended. The research shows that 80% don't even open the item after they have paid for it and downloaded it! And of the 20% who do open it up only a handful (20 to 25%) ever finish and implement!
In other words gamification techniques must be applied in order to get the purchasers to put the training to work.
Expectations versus reality
I wanted to be sure that this proven process got implemented. I carefully set things up so the perceived value was greater than the stated price ($197) the product included:
A bonus video demonstrating the 30-Second Marketing self intro technique
Module 1:
An overview video for the course.
A graphic roadmap of the course
Trial Hook worksheets in writeable PDF form
A zoom coaching call with all participants to share their work (and build community)
Module 2:
Hook'em worksheet with tips on resources to help craft creative breakthroughs
Directions on how to come up with more memorable hooks
A Higher recall worksheet (writeable PDF)
Challenge Winners worksheet (with segment for recording the groups suggestions)
A 30-Second Marketing Briefing
A zoom coaching call to share their progress and provide feedback
It worked but not as well as I had hoped. I was targeting 80% of those who signed up completing the course. Shifting the goal to actual use of the material being developed makes a difference. No longer is the measure of success a simple sales metric. Now it is a true measure…whether or not the purchaser got their money's worth.
The numbers
The entire pitch was 3 minutes out of a 2-hour presentation. It was a small group, just 12. Eight of them signed up. Three completed the first worksheets. The same 3 showed up for the Zoom coaching calls. None of them completed the Module 2 worksheets. (1 did a day later)
BUT, all of them felt the product was worthwhile and all said they had learned a great deal about how to present themselves and their offering in a new way that they believed would pay off.
Mission Accomplished.
Along the way we helped one participant figure out how to expand his potential market and how to change up another's presentation to get her unique difference across more quickly.
Shifting these individuals from doing a commercial to having a conversation was what I had set out to do. That got done. Will they be more memorable in the future? Probably.
An epiphany
One of the participants, after hearing the group agree with her friend's suggestion about how to identify herself said,
"Hmmmm… interesting.  Seems that would let me tailor what I say next based on whether I'm talking with an executive, business owner, manager or staff person."
That made it all worth while
The lesson for us all
I've been doing one-on-one consulting with consultants long enough to know that getting ready to get ready is a common failing. We all do it. We bite off more than we can chew. We sign up for a course, then get busy and figure, "well I can always come back to it." We procrastinate.
There is a solution. As one of my clients puts it:
"Define the three things you believe will change your business for the better.
Pick one.
Do it.
Rinse and repeat."
Stay tuned. More to come on putting more positive experience into the products it takes to build a business, a brand and a life of joy.
And so it goes.
---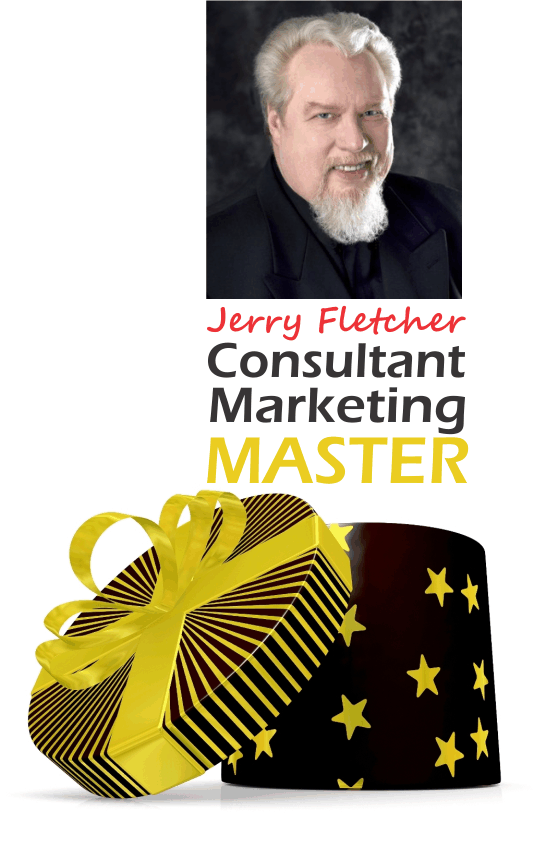 Jerry Fletcher is a sought-after International Speaker, a beBee ambassador, founder and CEO of Z-axis Marketing, Inc.
His consulting practice, founded in 1990, is known for on and off-line Trust-based Consultant Marketing strategies that build businesses, brands and lives of joy.
Consulting: www.JerryFletcher.com
Speaking: www.NetworkingNinja.com