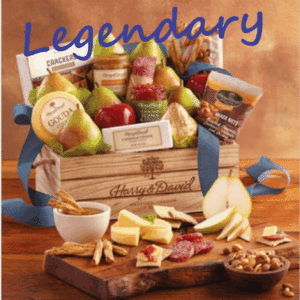 Back when I lived in Minneapolis I had the pleasure of dealing with a media representative for the legendary magazine The New Yorker.  I acquired a taste for it when I was just starting in the ad game in New York.
Once, over lunch, he told me the story of how a little company in Medford, Oregon began selling fruit by mail. It seems a New Yorker Salesman had decided to drive to Portland and Seattle from San Francisco and he was making stops along the way to pitch his magazine. In those days it was beginning to develop the peculiar circulation it has to this day. Most of the print run goes to New York but it is also read by a solid coterie of subscribers in major cities and high income demographic towns across the country.
That little company in Medford was Harry & David. They decided to test a small space ad in the publication. They sold out their apple crop. Then pears. And the cherries. That was the beginning for them. They became a legend by selling fruit via direct ads and mail across the USA.
A few years ago my then wife and I went to the Shakespeare Festival in Ashland (just north of Medford in southern Oregon). We stayed at a delightful B&B. The first evening over wine, cheese and pears that were to die for we learned our host was also the marketing director of Harry & David. We talked of how that first ad had changed the lives of the partners but more importantly hundreds of people in the Rogue valley. He stressed the fact that the values that were in place for that first ad remained and would continue into the future.
They have.
Now I find myself living as my friends say, "where the sidewalk runs out" south of Portland. I've been a Harry & David Customer for more years then I care to count. I know a conglomerate bought them out a while back but the  buyers haven't messed with what makes the company outstanding.
This year I had to change my order. Mom asked me to. She said she couldn't handle all that they sent in the Fruit of the Month club since Dad died.
So I made the call. I found myself talking to Margaret who understood completely. She walked me through some options. Then we settled on regular fruit shipments but in smaller quantities. She quietly checked all the pertinent shipping data and then helped me with the rest of my list.
The service was legendary.
This is what it took to get me to say that:
People that want to help on the phone. NO pushy sales types. NO hard sells.
Catalogs in the mail because I've told them I prefer not to get an e-mail every day for a month after Thanksgiving.
Pertinent details of addresses and greetings kept on file so I don't have to dig them out
Great Product.
No questions asked returns or changes if needed. Dad couldn't eat grapefruit due to a medication conflict. Mom called them and a substitution was made even though it was requested well before needed.
People you come to know, like and trust.
It takes time, vision, values, consistency, honesty and real caring. That builds trust and the outcome is a legendary brand.
Legendary can help a product resonate. See the story of Time in a Bottle this week at www.BrandBrainTrust.com
_____________________________________________________________________
Jerry Fletcher is the founder and Grand Poobah of www.BrandBrainTrust.com  His consulting practice, now in its 26th year, is known for Brand Development, Positioning and business development on and off-line.
Consulting: www.JerryFletcher.com
Speaking: www.NetworkingNinja.com
Get all the Brand Briefs. Sign up at http://www.brandbraintrust.com/home.html