I was in the Army. I should have learned then. I didn't.
I volunteered.
It wasn't like I hadn't done it before. That was years ago for the organization. A whole new set of officers had come and gone for the local chapter of a national organization. The only one I knew from before is the current chapter president. They had no one in the Marketing director slot and I could tell from the communications that the President was drowning.
I said I would build a strategic marketing plan and supervise the tactical implementation on the agreement that my Virtual assistant would be paid for the work I would ask her to do to get the organization on a scheduled basis.
A simple question
I asked in an e-mail, "Do we have a web site, an e-mail service and a way to register people for events and any social media that the chapter uses?"
Sounds simple, right? Should take a yes or no and if yes than a time to connect in a phone call to convey the username and password.
Should is the operative word. There was no website so I was asked to join the President on a Zoom call. I listened as he connected with GoDaddy to get a cheap web site that would be sufficient to the chapter's needs. That took two hours between explaining why a personal site would not work, waiting for a connection to GoDaddy and his exploration of how to save money by using personal credits.
Stop writing in code!
He agreed to send me the connection details (User name and Password) for the new web site, Mail Chimp and EventBrite accounts as well as the social media accounts. I agreed to take part of my Sunday evening to begin work on the web site. I could not get into the site to begin the design process.  The information he had sent was minus one letter in the password. Rather than call him after 10:00 PM on a Sunday I sent an e-mail stating the problem.
The following morning he sent an entirely different password. That didn't work either. I decided to call him, request the data and try it while I had him on the phone. He insisted on sending me e-mails in a kind of code and then talking me through how to decode the information to get into the applications. Two hours later I had the basic information I needed. Then we started on the same merry go round for social media. Somehow he set up a new twitter account while we working through decoding how to get into the Linked In and Facebook accounts.
Can I hire you?
He asked me that as we were wrapping up Having spent nearly a day's time total just getting to the point where I can begin to try to straighten things out, You can understand why I was hesitant to respond.
I queried his reasons for asking. His practice has declined and he has lost some clients and some he was assisting in succession/buyout were slowed because of the Covid.Pandemic.
He noted that his volunteer position in the chapter was eating a lot of his time.
There was a long silence when I told him my absolute minimum fee and noted that I worked only with a handful of elite consultants on a retainer basis.
Focus I said.
"You let me worry about marketing the chapter. Forget it until you get a plan from me to evaluate.
Shift your attention to assuring your paying clients are getting the service they expect and then some.
Pick up the phone and call past satisfied clients. The script you should use is:
I'm just checking in to make sure you have your plans in place as we go into 2021
If not, you know I understand your busines from our past work together. I may be able to help you get to answers more quickly.
Glad all is going well. I have some time available right now. Is there anyone you know that I could help? I'd appreciate a referral.
Sounds like an interesting situation. Why don't you invite them to lunch on me with the two of us or a joint Zoom call if we can't get together because of Covid regulations.
Let your former client talk about how you deal with the kind of problems the referral has.
When he or she has made it clear you can handle the situation, suggest that you meet with the referral source at his/her office to gather the information it will take for you to put together a value-based proposal
Focus
Never forget consulting is a business. No matter how much you want to help people. No matter how much you want to change the world. No matter how good volunteering makes you feel. You still have to pay the bills. You still have to get results. The outcome of your efforts needs to be a net gain in revenues as well as social capital.
If you're time isn't sellin' out your practice is shellin' out..
And so it goes.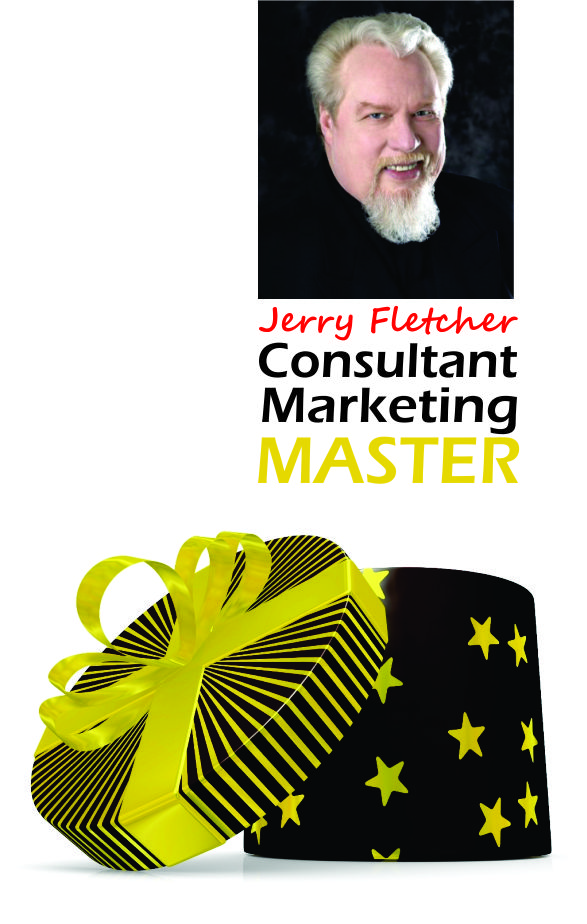 Jerry Fletcher is a sought-after International Speaker, a beBee ambassador, founder and CEO of Z-axis Marketing, Inc. See Jerry's new speaker demo reel.
His consulting practice, founded in 1990, is known for on and off-line Trust-based Consultant Marketing advice that builds businesses, brands and lives of joy.
Consulting: https://www.JerryFletcher.com
Speaking: https://www.NetworkingNinja.com