Dave and I had lunch Thursday.
It was good to hear how the little golf product company he founded was doing. He has come a long way from when we met in his kitchen to put together the promotional material for the annual Golf Pro Trade show for the USA.
He had already committed to that show when we started working together. It was only one of the areas he needed advice in. Like most entrepreneurs, particularly inventors, he had no idea of what it takes to start a business from the ground up.
Marketing Consultant/Start up Consultant
I came onboard because he wanted a marketing consultant. Very quickly I turned into a start-up consultant. He had worked through and solved his production problems in way that turned out to be scalable. He was handling fulfillment personally pulling, assembling, packaging and shipping product on an as needed basis.
Sales was how he tested whether the product was something that would work in Golf Pro Shops. On-line marketing was being tested, but not in an organized way.
I squired him through getting a distributor sales organization, acquisition feelers from several companies and finally finding a pro to handle his on-line marketing.
These days he tells me he is negotiating a new distributor deal that includes fulfillment and has come to the conclusion that being able to dial advertising on Facebook up and down to manage sales is what he really wants.
Video is what sells is what he believes.
He asked me to respond to some of his ideas generated by comments on his ads and social media. His ideas (did I say he is an inventor?) tend to take comments about alternatives to the product seriously. None of the alternatives were shown side-by-side with his product in his ideas. Then he kept wanting to add things to the product like speaking digital readouts etc.
What does the product get the buyer?
I stopped him in the middle of how he could measure the degree of deflection between a direct line to the hole and how an individual putted the ball. My response was "So what?" Knowing the degree of deflection doesn't mean diddly if I don't know how to correct it. If I read the directions on the current product I'll be able to see exactly how off I am without having any fancy digital sensors. I'll be able to correct my putting and practice the perfect stroke. I'll be able to take strokes off my game which is what I want.
The sound is the promise.
Somehow we found ourselves talking about why golfers would buy his product. It all comes down to sinking putts of any length. We were envisioning a dark screen like a golf course green in the twilight. He talked about a point of view video on the putter and ball as it is stroked, following the ball and then seeing it fall in the hole. I told him that vision was nice but it was no good without the sound effects. The putter clicks when it hits the ball. The distinct sound of a golf ball falling into the cup is unmistakable to a golfer.
The 3 second sale
I pointed out that when someone lands on your web page or clicks on your ad you've got no more than 3 seconds to get their attention, become memorable and build desire for your offer. Three seconds.
The speed of sound
You can recognize a sound in one half of one second (0.05 seconds). More importantly, for branding purposes, auditory reaction time is four times faster than visual reaction time. Hearing is the fastest of our five senses.
"Sound is incredibly powerful because of the speed at which you can capture your audience's attention and 'cement' your brand in their mind." — Gary Vaynerchuk.
I told Dave that the sound of the golf ball falling in the hole should be his singular audio brand component. Sound can sell his product. That sound is why a golfer will buy. That sound is the payoff for every golfer.
Imagine if you will
Video: Point of view (POV) Camera looking down on putter lined up on ball
Putter strokes ball.
Sound: Click of ball being putted (SFX)
Video: Fade through black to product at same angle as putt.
SFX: Ball dropping in hole
Video: POV product demo once with deflection once corrected
Cut to product logo
SFX Ball dropping in hole
Video: Super order link
Product logo
SFX Ball dropping in hole
All that can be done in less than 15 seconds.
And so it goes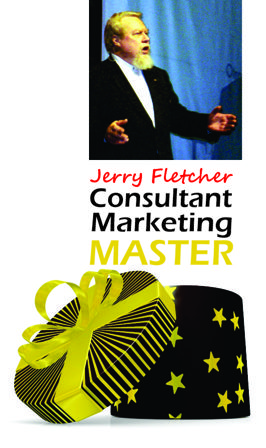 Jerry Fletcher is a sought-after International Speaker, a beBee ambassador, founder and CEO of Z-axis Marketing, Inc. See Jerry's speaker demo reel.
His consulting practice, founded in 1990, is known for on and off-line Trust-based Consultant Marketing advice that builds businesses, brands and lives of joy.
Credibility to Cash TM is his latest way to share experiences so you can take your business up a notch…or two.
Consulting: https://www.JerryFletcher.com
Speaking:  https://www.NetworkingNinja.com.
Copyright 2021 Z-axis Marketing, Inc. All rights reserved