Do Beats Say
93/% of personal communication takes place without speech.  Your gestures, tone of voice body language and tone are more powerful than your words.
Say What?
Some people think that means that if you can't see them, they can make you believe anything. They go on-line and represent themselves as an expert, a guru, a talent or a tempest because they think you won't be able to view their reality.
Seeing Is Believing.
Unfortunately, sooner or later in their quest for fame or familiarity they will provide a visual be it still or video that will give the reader/viewer pause. They may not be able to tell you why saying, "It just doesn't feel right" or "Something here just doesn't match up." Instead of the vision of wealth the masquer has been striving to project, a middle-class home or yard or neighborhood will be revealed.
All the protestations directed at making a persona impress and excite will begin to ring untrue. When the words and the pictures are at odds, the poseur has reached the end of their run. Each of us will feel that bull-shit alarm rousing the neighborhood.
Behind the Mask
The internet does not provide a mask. It puts a cap on what we can do in person. It limits that easy believability. The online portrait you paint is never perceived as a photograph. It is seen as an over-retouched bit of fakery. You in person is at least 12 times more effective. An airbrush cannot make you perfect. It can "fix" one image but it cannot completely clean up a video. That is when the ruse crumbles. You are much better off going in "warts and all" if you want to be trusted.
Seeing the Truth
The basis of a personal brand is your personality, your real personality. All of us have what we see as blemishes. We usually have stronger beliefs about them than those that know us well. Whether you believe you have flaws of character or physique or both you need to stop fixating on them.
Suck it up. Get real. Work on those perceived faults. Compare that mask you've been presenting with the real you. Yes, there is a difference. Ideal is not real. Perfect is an opinion. All the folks out there will decide what and who you are. They will take into account what they see and what you are striving to be if you let them see you.
Trust Yourself
I know how tempting it is to tighten the ties of the mask and take the stage. I've spent enough time on the platform to have concluded that the more of yourself you reveal the more positive response you will garner. When I speak on Trust I tell audiences that in today's world they need to trust:
Their Companies
Their Staff
Their Customers
And
Trust yourself.
Be yourself in person and on line.
Live fully…free of the mask.
---
Jerry Fletcher is a sought-after International Speaker, a beBee ambassador, founder and Grand Poobah of www.BrandBrainTrust.com
His consulting practice, founded in 1990, is known for Trust-based Brand development, Positioning and business development for independent professionals on and off-line.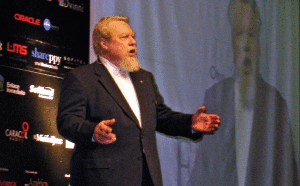 Consulting: www.JerryFletcher.com
Speaking: www.NetworkingNinja.com